Get your pet the care and treatment they need at our animal hospital.
When your fur-baby is sick or needs treatment, you want to get them the best care possible. If you are in the Graham, North Carolina area, that treatment can be found at our wonderful animal hospital! With our team of dedicated, compassionate and kind veterinary professionals at Plaza Veterinary Hospital, you won't want to take your fur-baby anywhere else when they are sick or need a checkup, and we want to help you give them the best care possible.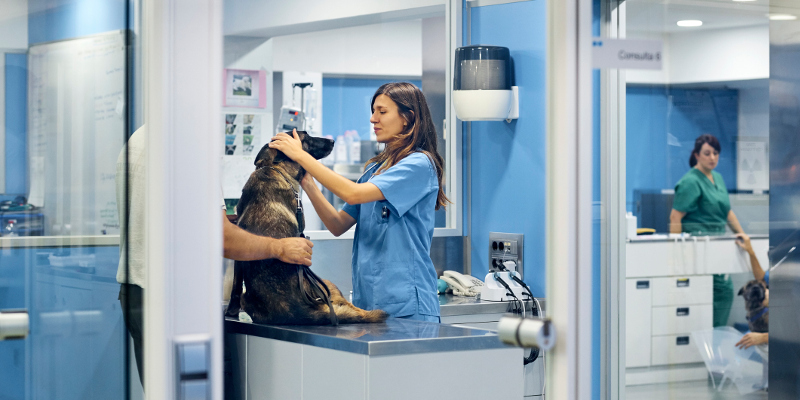 For years now, you have been able to bring your dogs and cats to our wonderful animal hospital, and we have grown our facility to help them stay comfortable while expanding our services and care options. Dogs and cats alike recover better and can stay calmer during treatments when they start in a place that they recognize and have positive associations with. When you bring your dog or cat in for regular checkups, they recognize our animal hospital as a place that is often enjoyable and pleasant. If you need to bring them in for a procedure, your dogs and cats will have a better experience in a place that already brings them comfort, like our animal hospital.
We have many services that can help you with your pet, and they're not just medical services. Our animal hospital also offers boarding, grooming, dentistry, bloodwork, radiology, pharmacy options, and more. Whether you are coming in for a pet's surgery or want to get ahead of an issue with preventative care, our team is ready to help. Please give us a call today to learn more!

Give your pet the best
Your Animal Hospital & You: FAQs
When you are a pet parent, then you understand that there is more to taking care of your furry babies than just getting them a quality kibble and a water dish. Here at Plaza Veterinary Hospital, we understand that many people are worried about the well-being of their pets and are looking for quality veterinary care, too. If you have been looking at our animal hospital, we want to help you. We have a few frequently asked questions that we hope will help you, including:
What makes an animal hospital different from a veterinarian's office?
Our animal hospital provides a variety of care options under one roof. While a vet's office might need to send an animal to an animal hospital for a procedure or to have some testing done, when you come to us, all those things can be done under our roof!
What animals do you see at your animal hospital?
We treat both cats and dogs.
Can I make regular veterinary appointments here?
Absolutely! While we are set up as an animal hospital to complete surgeries and testing, we also complete standard and routine vaccinations, regular check-ups, etc. with a vet.
Do you offer dental work for pets?
Yes. As part of our animal hospital, we are equipped to take care of pet dental problems, including the administration of anesthesia for your pet to make the procedure a calm one.
We hope that this has answered some of your questions. If you would like additional information or have other questions not answered above, please give us a call today!
---
At Plaza Veterinary Hospital, our animal hospital welcomes patients from Burlington, Graham, Mebane, Glen Raven, Elon, and Haw River, North Carolina.
Similar Services We Offer: