Our pet clinic offers care, consideration, and extra appointment times for your convenience.
When you are looking for a pet clinic, you know you have many different choices here in the Burlington, North Carolina area. However, you are probably looking for something specific. You don't want just any pet clinic! Pet parents today want someone who will treat their pet with the same care and consideration that they would want for their fur-baby. Here at Plaza Veterinary Hospital, we are the pet clinic that you have been looking for!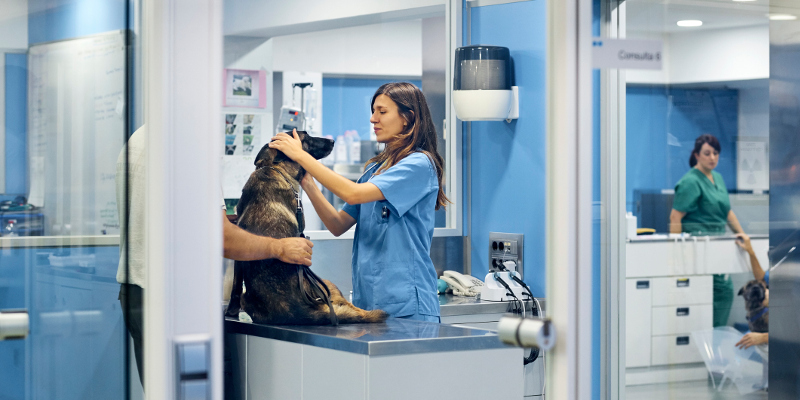 At Plaza Veterinary Clinic, one of the first things that you'll notice about our clinic is that we are not just a clinic, but rather dedicated and patient animal lovers who want to care for your animals like you do. We take the time to make sure an animal doesn't feel anxious or afraid at our visits, even if that means going a little slower than other veterinary clinics. We also staff our pet clinic with true animal lovers who are great at what they do and can handle working with even the fussiest of animals.
In addition to making things more comfortable for your pet at our pet clinic, we take the time to make things easier for you as well. One of the biggest issues we wanted to avoid at our pet clinic was having patients who couldn't always make a normal appointment time due to work or school conflicts. So, we have opened up extra evening appointments and Saturday hours so that your pet's care never need fall behind due to a lack of convenient scheduling.
To learn more about our pet clinic here at Plaza Veterinary Hospital, please give us a call today.
FAQs About Our Pet Clinic
If you believe that a pet clinic should be chosen with the same care as where you obtain medical services for your family, you'll soon realize that at Plaza Veterinary Hospital, we are an excellent choice. We are animal lovers just like you and pledge to always address your questions and concerns, so you have all the answers you need about your pet's health. Here are some common questions we have been asked at our Burlington, North Carolina pet clinic.
Do you provide care for all types of pets?
Our pet clinic specializes in dogs and cats, so we can give them more focused care than if we were to handle other types of pets as well.
What types of services does your pet clinic handle?
We offer exams for preventative care, medical and surgical consults, dentistry, in-house bloodwork, digital radiology, grooming, spay and neutering, and boarding services, just to name a few. Don't hesitate to ask us if you have something else your dog or cat requires.
Can your pet clinic help me protect my pet from fleas and ticks?
Absolutely! We have a variety of solutions for preventing and resolving flea and tick issues, as well as other preventatives, such as heartworm protection. We are in the South after all, so we have plenty of bugs to combat.
Will your pet clinic be able to advise me about food for my pet?
Yes, we are happy to go over which dog and cat foods we recommend that are backed by research trials. We stock and recommend Royal Canin® diets for this reason and the dogs and cats under our care thrive when their owners choose this for their pets.
---
At Plaza Veterinary Hospital, our pet clinic welcomes patients from Burlington, Graham, Mebane, Glen Raven, Elon, Central Heights, and Haw River, North Carolina.