Your fur-baby will receive the best in care at our pet clinic.
If you are looking for a pet clinic near the Graham, North Carolina area, there are many options to choose from, but we believe your pet will receive some of the best care available at Plaza Veterinary Hospital! When you make the short drive to our pet clinic, it won't take long before you see that we love animals just as much as you do, and are intent on providing your fur-baby with the best care possible whether they are here for a checkup, because they are sick, or because they need one of our additional services like boarding or grooming.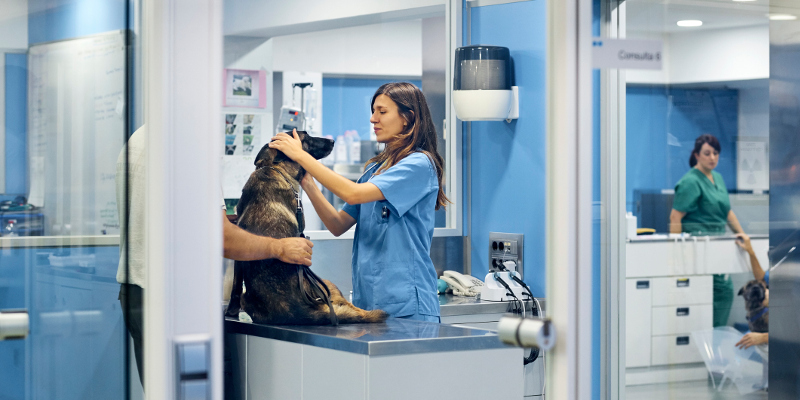 Our pet clinic offers a high standard of care that pet parents today want for their fur-babies. For over 35 years, our pet clinic has been a staple of the community, offering excellent care with a reputation for kindness in our staff and veterinarians alike. We know that you and your pet will be able to feel comfortable and confident from the moment you arrive, and we would love to show you the higher standard of care that awaits you at our pet clinic.
We know that not everyone is able to come see us during standard business hours, so we offer flexible Saturday and evening hours to accommodate your needs. Because our extra hours ensure that your pet doesn't need to miss any of their checkups, you can keep your pet healthy and prevent harmful diseases. Going the extra mile for our patients is something our pet clinic is known for, and we would like to show you the difference in our care! For more information or to make an appointment with our team, please give us a call today.
​FAQs About Our Pet Clinic
At Plaza Veterinary Hospital, we want to provide the best possible care to your pet. Below, we've answered some questions we often receive about our pet clinic to help you get to know us a little better.
What animals do you treat?
We only treat cats and dogs at our animal clinic. By specializing in cats and dogs, we can provide even better care to our furry patients.
How long has your pet clinic been in business?
We have been in business for over 35 years. Over the years, we have cared for many pets and established great relationships with many pet owners.
What makes your pet clinic different?
Our customers use words like compassionate, caring, friendly, helpful, and knowledgeable to describe our pet clinic. We also view every pet as a valued member of their family and use this principle as the guiding force behind the level of care we provide.
When should I bring my furry friend to the vet?
We recommend bringing your pet to our clinic on an annual basis to update their vaccinations and ensure they are in the best possible health. If you ever notice a decline in your pet's health or feel like they could benefit from professional medical attention, make an appointment at our clinic.
How do I make an appointment?
Making an appointment for your pet at our clinic is easy! Simply give us a call, and we'll set up an appointment time for you to bring in your pet that works with your schedule.
---
At Plaza Veterinary Hospital, our pet clinic welcomes patients from Burlington, Graham, Mebane, Glen Raven, Elon, Central Heights, and Haw River, North Carolina.