Many of our clients rely on us to perform surgery and post-surgical care in our fully equipped animal hospital.
Although no one wants to think about their pet needing medical care, situations can arise, and it's important to know where to turn for help. An animal hospital is a medical facility where your pets can get the care and treatment they need. For those in the Mebane, North Carolina area, Plaza Veterinary Hospital is a trusted location for a variety of veterinary services. We're run by an experienced and caring veterinarian who grew up in the area and can provide the care your pet needs to stay healthy.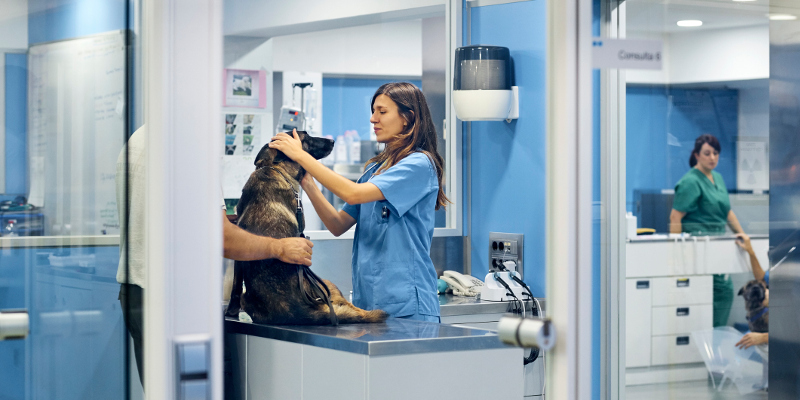 Many of our clients rely on us to perform surgery and post-surgical care in our fully equipped animal hospital. When needed, our veterinarian can perform general surgical procedures, digital radiology, and emergency care. Dental care is an essential aspect of your pet's overall health and well-being, and we can perform dental services in our facility. We also offer in-house bloodwork to check your pet's health before and after surgery or as part of an ongoing treatment or maintenance plan. If you're concerned about your pet's health or medical conditions, schedule a medical or surgical consultant. We'll perform a thorough examination and talk to you about all the options, allowing you to make an informed decision in a low-pressure environment.
In addition to performing surgical and dental services, we care for pets throughout all stages of life with preventive care and vaccinations. Our team cares deeply about pets and their needs, and that passion for animal care and compassion shows through in every interaction we have with our patients and their owners.
FAQs About Our Animal Hospital
When there are many medical clinics and hospitals in your area, you tend to talk to others to find out which are the best, so you can make a quick decision should you ever need emergency medical care. Pet owners feel the same way and will take the time to learn about pet clinics and animal hospitals. At Plaza Veterinary Hospital, we welcome your questions about our animal hospital before you even need us, so you can feel comfortable bringing your pet here for preventative care and restorative care. Here are some common questions we have been asked in the past about our animal hospital.
Does your animal hospital also dispense needed medications?
While your pet is in our care, they will be given whatever medications are necessary to help them return to health. You can also avail yourself of our online pharmacy to get whatever medications you need. We will take care of prescribing the medications, so you can have them shipped right to your home to avoid needing to come to our animal hospital.
What types of surgical services does your animal hospital offer?
We can spay or neuter your pet, perform sedated dental services, and complete other general and planned surgical procedures. We handle bloodwork in-house, as well as digital radiology, and can provide daytime hospitalization.
Why should I choose your animal hospital?
Families have told us that we are more welcoming and friendly than what you might expect from a typical animal hospital. We always recommend the best medical option and can provide various options that can fit within your budget.
---
At Plaza Veterinary Hospital, our animal hospital welcomes patients from Burlington, Graham, Mebane, Glen Raven, Elon, Central Heights, and Haw River, North Carolina.
Similar Services We Offer: