Our animal hospital is clean, comfortable and stress-free for pet and parent.
We know you love your pet. Here at Plaza Veterinary Hospital, we understand the love that we have for our animals more than most because we love your pets (and our own) as well! In order to give your furry family member the best life possible, they need to be healthy and cared for by experienced vets like ours at a great animal hospital. If you are in the Burlington, North Carolina area and are looking for an animal hospital, consider coming to us here at Plaza Veterinary Hospital.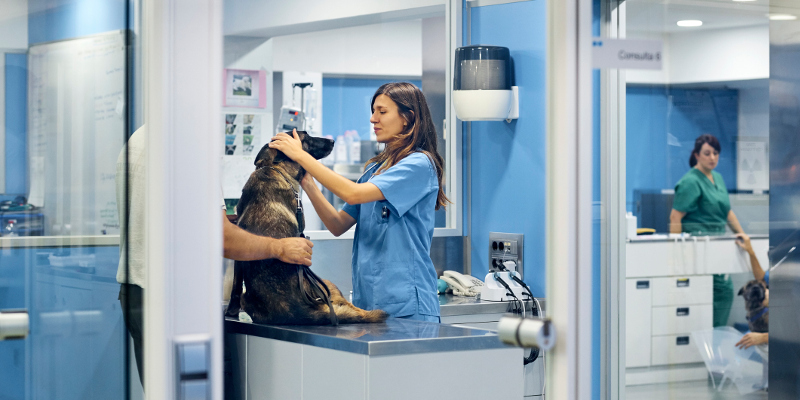 You can feel comfortable bringing your pet to our animal hospital for everything from grooming and boarding to emergency surgery and dentistry. In order to keep this accreditation, we need to keep our standards of care and excellence even higher than those required by veterinary board inspections. We know that once you have seen our animal hospital, you will be able to easily see why ours is a cut above the rest.
Your New Local Vet
 At Plaza Veterinary Hospital, we are an animal hospital that works to suit the needs of the busy pet parent. We stay open a little later in the evenings, so you can bring your pet in after work without paying for an expensive after-hours call. Furthermore, we are always available to give you expert advice and tips on the care for your pet.
If you are looking for an animal hospital that loves your pets as much as you do, it's time to check Plaza Veterinary Hospital!
FAQs about Our Animal Hospital
At Plaza Veterinary Hospital in Burlington, North Carolina, we understand having a ton of questions you need answered before settling on the animal hospital you will entrust your dogs and cats to. We welcome your questions because we want to put your mind at ease that your furry family member will receive excellent care at our animal hospital. Here are a few common questions to get you started, but feel free to reach out if you have others:
How long has your animal hospital been serving this area?
This animal hospital has been serving pet families for over 35 years. We are currently led by Dr. Morgan Thomas, who took over after the previous veterinarian retired.
What would you say are your strong suits as a trusted animal hospital?
There are two areas where we feel we shine. The first is our commitment to educating pet families on how to keep pets healthy throughout the year. The second is our determination to stay on top of the latest advances in veterinary technology and treatments so we can provide the best care possible to the dogs and cats we treat with loving care.
What is a common misconception that you frequently need to dispel?
Many people think that preventatives such as flea, tick, and heartworm medications are not needed all year long. The reality is that our climate leaves your pets susceptible to disease-carrying pests even in the cooler months. Our animal hospital recommends year-round coverage for fleas, ticks, and heartworm.
---
At Plaza Veterinary Hospital, our animal hospital welcomes patients from Burlington, Graham, Mebane, Glen Raven, Elon, Central Heights, and Haw River, North Carolina.
Similar Services We Offer: