Our dog groomer is talented at putting dogs at ease for their grooming, bath, and other included services.
At Plaza Veterinary Hospital, we understand that your dog is an important part of your family and that giving it the best care possible involves more than just health checkups, vaccinations, and other veterinary services. It also means wanting them to look their best and smell nice enough to cuddle with. That is why we also have a dog groomer at our veterinary hospital.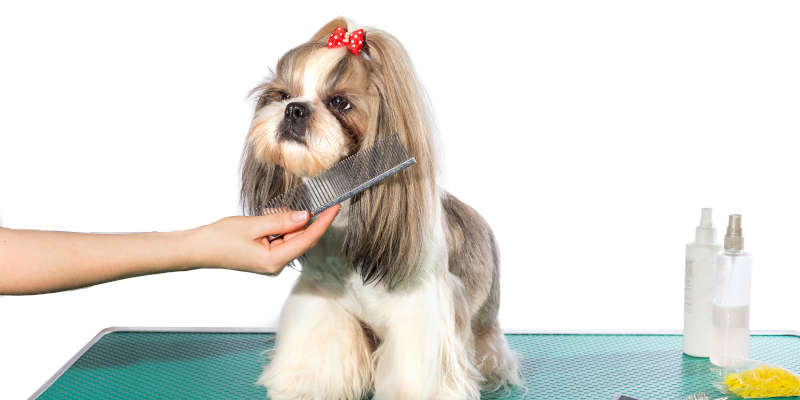 Our dog groomer is remarkable with dogs, putting them at ease even if they aren't normally all that fond of bath time. Our dog grooming service also helps them be healthier, as it includes an anal expression, ear cleaning, and a nail trim. The pricing for our dog groomer's services is based on weight:
An advantage of utilizing our dog groomer over a location that does not have a veterinary background is that we check out your dog during the grooming and alert you to any abnormalities that the veterinarian should be apprised of. This early detection of a health problem can be a life saver in some cases.
When your dog finds that the majority of their visits to our Burlington, North Carolina veterinary hospital involve pampering, we stop being a scary place for medical procedures, so when they do need a health concern resolved, they may be less anxious about it.
If you have any questions about our pet grooming services or would like to schedule an appointment with our dog groomer, don't hesitate to give us a call. We also do cat grooming!
Dog Groomer FAQs
When you have a dog, it is only natural to want to give them the best. We take the time to find them the right treats, a comfy bed, and even great food choices. If your dog is of a breed that needs regular grooming, then we expect you will need to find them a quality groomer, too. Here at Plaza Veterinary Hospital, we have wonderful dog groomers here in our animal hospital. We noticed that we were answering many of the same questions, and hope that this FAQ page will help you if you have questions for our dog groomer!
What is including in a grooming appointment?
Every dog grooming appointment includes the basics such as a bath, nail trim, and (if needed) hair trim. We also include anal expression and ear cleaning.
What is the price of a dog grooming appointment?
The price of our dog grooming is based on the weight of your pet. Please call us to get a quote for your specific animal.
How do you keep the dogs calm?
Our dog groomers are used to dealing with animals of all shapes, sizes, breeds and temperaments. We know many tricks to help keep them calm and will not rush your pet if they are feeling worried or nervous. We work to make this a pleasant experience! 
Can you groom my cat, too?
Yes! We also offer cat grooming if you'd like to bring both pets in at the same time.
We hope that these dog grooming FAQs were able to answer some of your questions. However, if we missed a question or you require further information, we would love to talk with you. For more information, please give us a call today!
---
At Plaza Veterinary Hospital, our dog groomer welcomes patients from Burlington, Graham, Mebane, Glen Raven, Elon, Central Heights, and Haw River, North Carolina.