Our pet groomer has the expertise to achieve even specialized grooming cuts.
There are many different avenues you could take for selecting a pet groomer for your dog or cat in the Burlington, North Carolina area. At Plaza Veterinary Hospital, we believe that having one place to go for their preventative and restorative health care, as well as pet grooming, has some distinct advantages. The first is that your pet will begin to see our veterinary hospital as a place they'll get pampered so that medical visits won't make them as anxious.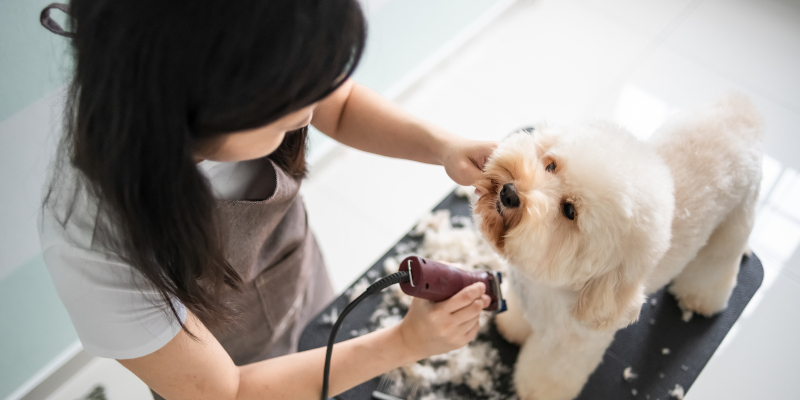 A second advantage is that our pet groomer is trained to watch for abnormalities and health concerns so they can be dealt with early on. You can also save yourself a second visit by combining their grooming and checkup in the same day. That can be an ideal solution if you have a pet that doesn't like traveling very much or gets motion sickness when in your vehicle.
The pricing for our pet groomer's services is very straightforward, with one price for cats for a shave or lion cut and pricing for dogs based on weight. Dog grooming includes a bath, anal expression, ear cleaning, and nail trim. We also have added services for cats, such as sedation for anxious cats, a bath, and nail caps.
Our pet groomer has the experience and expertise to achieve even specialized grooming cuts and is very talented at putting dogs and cats at ease during grooming. Your pet will be groomed with the least amount of stress on them, and you'll love the results when you pick them up. If you have any questions or would like to schedule an appointment, don't hesitate to reach out to us.
FAQs About Pet Grooming
We know that you want only the best for your pets, and so do we. Before you bring your dog or cat to see a pet groomer at our clinic, you're probably going to have questions for us so that you can feel at ease about leaving your pet in our care. We have answered some of our frequently asked questions below so you will have all the information you need. Feel free to contact us through our website or by phone if you have other questions.
How often should I bring my dog or cat in for grooming?
The answer depends on the breed, but as you might expect, dogs or cats with longer hair need to be groomed more often than short-haired breeds. You can use every 8 to 12 weeks as a general guideline of how long you should go before making an appointment with a pet groomer. Use your best judgment or ask us directly about our recommendation at your pet's first appointment.
Do you offer flea prevention?
Yes, flea prevention is very important here in the South, so we provide year-round coverage for your pets. We can usually take care of it in the same visit too.
How long does a grooming appointment take?
The length of a grooming appointment depends on several factors such as the size of your pet and how cooperative they are. It could take less than an hour or a few hours. However, you can trust that your pet groomer will do their best to ease your pet's anxiety and complete the service in a timely manner.
Should I schedule an appointment in advance?
Yes, we encourage you to make an appointment with us early because our availability varies, and we want to be sure you get an appointment at a time that is convenient for you.
---
At Plaza Veterinary Hospital, our pet groomer welcomes patients from Burlington, Graham, Mebane, Glen Raven, Elon, Central Heights, and Haw River, North Carolina.