Our pet grooming service is beneficial for the health of your cat or dog.
There are many benefits associated with professional pet grooming, so it shouldn't come as a surprise that you will find this service at our veterinary practice. At Plaza Veterinary Hospital, we are dedicated to the health and happiness of the pets entrusted to our care, so offering pet grooming along with medical care makes sense.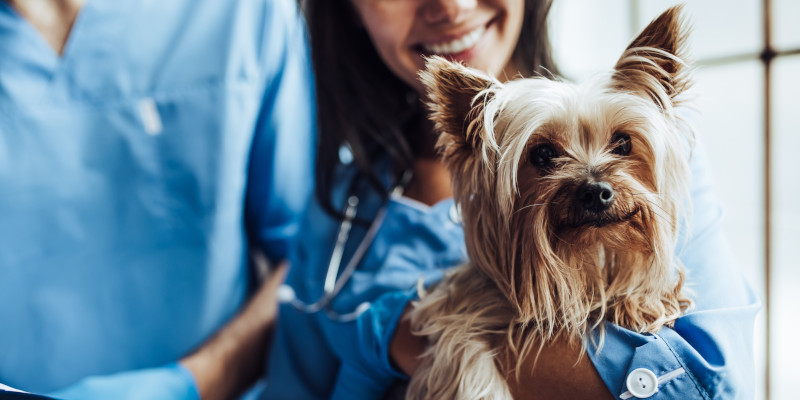 Pet grooming is nice for having a dog or cat that smells nice, looks great, and is a joy to pet and cuddle with. Maintaining a healthy coat and skin accomplishes that, and makes your pet feel more comfortable, as well. As part of our pet grooming service, we also trim their nails, which protects your furniture and people from scratches and lets your pet enjoy a healthy foot structure and posture, as well as decrease the risk of infection from a torn nail.
We also clean their ears, which can reduce the chance of an ear infection. Our groomers pay attention to your dog or cat during the pet grooming, which can prove beneficial for the early detection of a health problem or to make you away of any abnormalities.
Our pet grooming pricing is affordable and straightforward, so you know exactly what to expect. We price dogs based on weight. Cats are a set price for either full shave or lion cut, with sedation, bath, and nail caps an added fee, if desired.
If you have any questions about our pet grooming services, including information about vaccine requirements for the safety of our other patients and our staff, don't hesitate to contact us. We look forward to seeing you and your pet at our Burlington, North Carolina veterinary hospital and pet grooming facility.
FAQs About Pet Grooming
At Plaza Veterinary Hospital, when we added pet grooming to the list of services we offer at our Burlington, North Carolina pet clinic, we expected we would get many questions about what to expect. You are always welcome to ask us specific questions based on your pet, but we thought we would share a few common questions about pet grooming to get you started.
How long will I need to leave my pet with you?
We prefer not to rush the pet grooming process, so we'll let your pet's comfort level set the pace. Pets that are comfortable with being groomed will take less time than those that have not been groomed often or are inherently fearful of the process. We would rather gain their trust and get them relaxed prior to beginning, so they learn they can feel safe as we complete their grooming.
How often should pet grooming be done?
Each dog and cat is different in this regard. Some have a coat of fur that grows extremely fast and would become matted and tangled quickly if pet grooming wasn't done frequently. Others require just a bath and a quick trim every few weeks to look their best. In addition, some pet owners opt to have their pet shaved or given a lion cut certain times of the year.
Why does my pet have to be vaccinated to be groomed?
While your pet is with us during pet grooming, they will be in the vicinity of other pets and our staff. It is for their protection that we require pets that we groom or board to be up to date on their vaccines. It is also for your pet's safety to know that all other pets here have been vaccinated.
---
At Plaza Veterinary Hospital, we offer pet grooming for patients from Burlington, Graham, Mebane, Glen Raven, Elon, Central Heights, and Haw River, North Carolina.
Similar Services We Offer: