Our grooming services will help your pet look and feel their best.
At Plaza Veterinary Hospital, we love helping pet owners in Mebane, North Carolina take the best possible care of their pets. We offer complete wellness care, including medical exams and parasite prevention, but did you know we also offer grooming services for cats and dogs?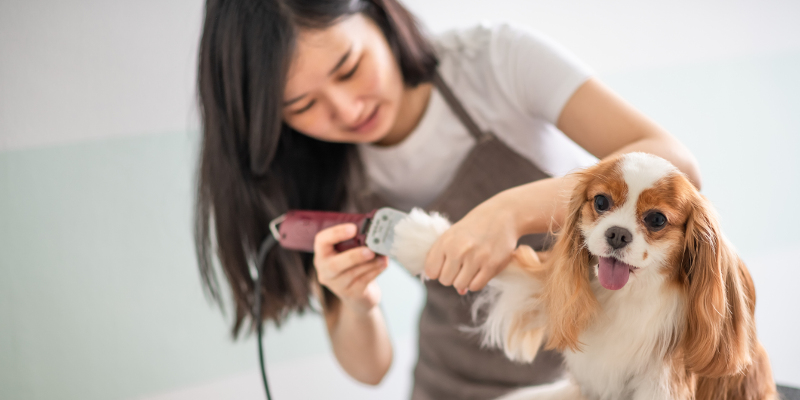 Scheduling regular grooming services for your pet can help prevent skin irritation, infections, and other health problems. Grooming can also help your pet feel more comfortable by removing matted fur or long nails, which can reduce their mobility or even cause pain. An added perk is that taking your pet to the groomer can reduce shedding, which keeps your home cleaner and reduces allergy symptoms caused by pet hair and dander.
For dogs, we offer the following grooming services:
Baths
Nail trims
Ear cleaning
Anal expression
We know that visiting the groomer can cause anxiety in cats, so we offer sedation for cats needing assistance to feel calm and relaxed during their grooming session. Our grooming services for cats include the following:
Full shaves or lion shaves
Baths
Nail caps
We provide grooming for cats and dogs of all shapes and sizes and will go the extra mile to keep your pet looking their best. To keep our staff and other furry visitors safe, all animals who visit our grooming facilities must have documentation showing they are up to date on their vaccinations.
If you're looking for an animal wellness facility that can take care of every aspect of your pet's health, look no further. Contact us for more information or to schedule a medical appointment or grooming service.
---
At Plaza Veterinary Hospital, we offer pet grooming for patients from Burlington, Graham, Mebane, Glen Raven, Elon, and Haw River, North Carolina.
Similar Services We Offer: