Our grooming services will help your pet look and feel their best.
At Plaza Veterinary Hospital, we love helping pet owners in Mebane, North Carolina take the best possible care of their pets. We offer complete wellness care, including medical exams and parasite prevention, but did you know we also offer grooming services for cats and dogs?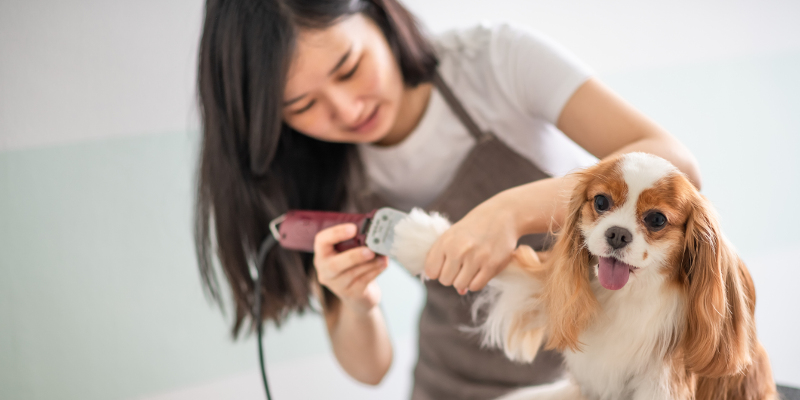 Scheduling regular grooming services for your pet can help prevent skin irritation, infections, and other health problems. Grooming can also help your pet feel more comfortable by removing matted fur or long nails, which can reduce their mobility or even cause pain. An added perk is that taking your pet to the groomer can reduce shedding, which keeps your home cleaner and reduces allergy symptoms caused by pet hair and dander.
For dogs, we offer the following grooming services:
Baths
Nail trims
Ear cleaning
Anal expression
We know that visiting the groomer can cause anxiety in cats, so we offer sedation for cats needing assistance to feel calm and relaxed during their grooming session. Our grooming services for cats include the following:
Full shaves or lion shaves
Baths
Nail caps
We provide grooming for cats and dogs of all shapes and sizes and will go the extra mile to keep your pet looking their best. To keep our staff and other furry visitors safe, all animals who visit our grooming facilities must have documentation showing they are up to date on their vaccinations.
If you're looking for an animal wellness facility that can take care of every aspect of your pet's health, look no further. Contact us for more information or to schedule a medical appointment or grooming service.
FAQs About Pet Grooming
Our staff at Plaza Veterinary Hospital wants to do everything we can to help your pet feel healthy and look amazing. In addition to our full-service animal clinic, we also provide high-quality pet grooming services to keep your cat or pup looking absolutely adorable. We know you and your pet might be a little nervous about visiting a new grooming facility, so we've answered a few frequently asked questions below.
How often does my pet need professional grooming?
This can depend on multiple factors, including the type of pet you have, the environment they live in, their coat type, and their activity levels. For example, a long-haired dog that spends several hours outside most days should be bathed and groomed more often than a short-haired breed that prefers to spend their days snoozing on the couch. Give us a call to get more information for your pet's specific needs.
Do cats really need professional grooming services?
Although it's true that many cats are excellent self-groomers and therefore don't need regular baths, long-haired cats and cats with mobility issues may need a little extra help. If your cat's fur is looking matted or tangled, or if they're unable to reach certain areas of their body to clean themselves, we recommend bringing them to a groomer more frequently to prevent skin irritation and other unpleasant side effects.
Can I groom my pets at home?
Regular at-home grooming is highly recommended for most cat and dog breeds to keep up with their care between professional groomings. Regular brushing, nail trimming, and teeth cleaning are great ways to keep your pet comfortable and looking their very best. If you're not sure what you should be doing to help groom your pet, give us a call to get grooming advice tailored for your furry friend.
---
At Plaza Veterinary Hospital, we offer pet grooming for patients from Burlington, Graham, Mebane, Glen Raven, Elon, Central Heights, and Haw River, North Carolina.
Similar Services We Offer: