Get your cat or dog grooming done by our talented professionals.
Here at Plaza Veterinary Hospital, we want to help you with all of your fur-baby's needs! We understand that a pet-parent needs more than just access to quality veterinary care, but also needs help in other areas as well. If you are in the Graham, North Carolina area and need assistance with pet grooming, our team is ready to help you with your dogs and cats.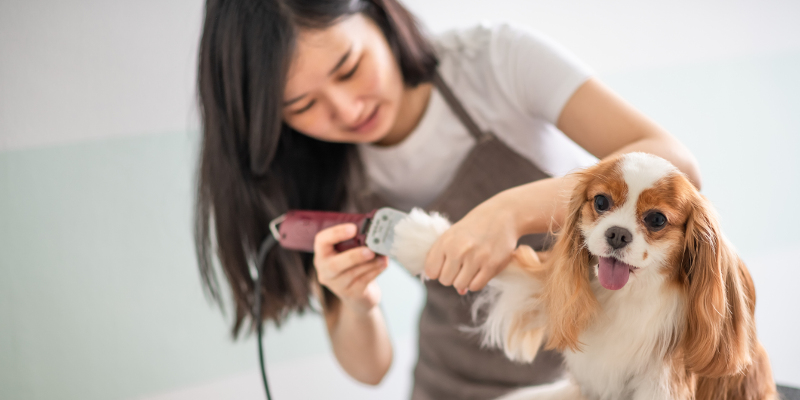 Pet grooming can be difficult because even the calmest and most contented of pets can become anxious and squirmy when it comes to grooming. Our professionals are around animals all day, and are well-trained and capable of handling them when it comes to bathing, trimming fur and nails, and other services. If you bring in your pooch, you can expect your grooming service to take care of a nail trim, anal expression, ear cleaning, and bathing. Cats can look forward to nail caps, baths, lion shaves or full shaves and even comfortable sedation for those cats who are terribly anxious. No matter if your pet has anxiety about grooming or if you just need expert assistance, our team can provide you with the best in grooming options.
If you have been looking for grooming professionals who can take care of your dogs and cats, then we at Plaza Veterinary Hospital would love to talk more with you! We need your pets to be up to date on their vaccination records and can get them started on a comfortable and enjoyable grooming experience. Give us a call today to learn more!
FAQs About Grooming Your Pet
Taking care of your furry friend also means having them groomed on a regular basis. At Plaza Veterinary Hospital, we offer grooming services as part of our veterinary hospital, and we are eager to help you take care of your beloved pet. Here are some things to know about our grooming services before your next appointment.
Do you groom cats and dogs?
Yes! We groom both cats and dogs, so whether you have a cat, a dog, or both, you can bring them to us for grooming.
How often should I come in for a grooming appointment?
How often your cat or dog needs grooming depends on their breed, your preferences, and other factors. We can provide our recommendations during your first grooming appointment and give you advice about an ongoing grooming schedule.
What grooming services do you offer?
We offer a wide range of different grooming services. Some of these include bathing, fur trimming, nail trimming, and many others. If there is a specific grooming service your pet needs, please don't hesitate to let us know.
Why should I bring my pet to you for grooming?
First and foremost, we love animals! We will take great care of your cat or dog and make them look and feel their best during their grooming appointment.
How do I set up a grooming appointment?
You can give us a call to find out when we have grooming appointments available. You can also fill out our contact form, and we'll get back with you.
---
At Plaza Veterinary Hospital, we offer pet grooming for patients from Burlington, Graham, Mebane, Glen Raven, Elon, Central Heights, and Haw River, North Carolina.
Similar Services We Offer: